Information for Prospective Families and Students
A GREAT PLACE TO LIVE AND LEARN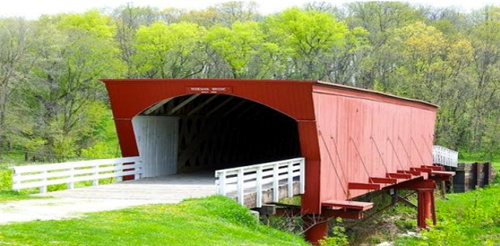 A total of six covered bridges are located in Madison County, including one in Winterset City Park. The annual Covered Bridge Festival celebrates the bridges and local heritage every second full weekend in October. The covered bridges, popularized by Robert James Waller's novel, The Bridges of Madison County was made into a feature film starring Meryl Streep and Clint Eastwood and also a Broadway musical in New York City.
The Madison County Courthouse, in the middle of the town square, was built in 1868, and rebuilt in 1876 after being partially destroyed by fire. The town square is vibrant with stores to meet almost everyone's tastes and shopping needs. The John Wayne Birthplace Museum is located just south of the downtown area.
WHAT MAKES WCSD UNIQUE?
State of the Art Facilities - The 19.950 million bond issue passed in 2018, allowed for the Elementary remodel and Junior High/ High School expansion of classrooms and remodel. This also included a new competition gym, football stadium upgrade and upgraded weight room.
Universal Preschool for All 4-Year-Olds – All eligible 4 year olds within the Winterset School District boundaries are provided the opportunity to attend a 1⁄2 day preschool in one of our programs or our community partner programs (Wee Learners and Head Start).

All Day Kindergarten – The standard in Winterset. With lower class sizes and more opportunities for individual attention, students leave kindergarten with strong academic skills.

Whatever I Need (WIN) and Seminar Time – Each day, students participate in groups that provide support, remediation, and/or extensions to learning based on student needs. WIN and Seminar time is for all students no matter if they are performing above, at, or below grade level standards.

Whatever it Takes is our Motto in Winterset – It's an expectation not just a motto amongst our faculty and staff. Examples include 1) our K-6 tutoring program that provides an extra boost for students who need support in basic math and literacy skills, 2) our Success Center at WHS which supports students who need additional support or need to learn in differentiated ways, and 3) our partnership with community-based therapists to assist students who need additional emotional and/or behavioral support.

Science Content Specialists, K-12 – Students are provided instruction in the area of science by specialists. This allows students to dig deeper into science concepts and curriculum that in turn provide extended opportunities for learning at the high school level.

Madison County Career Academy – Through a partnership with Des Moines Area Community College and area school districts, WCSD is able to offer college credit courses in Certified Nursing Assistants, Medical Terminology, Emergency Medical Technician and Engineering.

Concurrent Enrollment Courses – Several course options are available at Winterset High School whereby students may obtain dual credit (high school credit and Des Moines Area Community College credit) for upper level courses such as Advanced Biology and Calculus.

Project Lead the Way – Teachers trained in this curriculum teach courses aligned to Science, Technology, Engineering and Math standards.

Technology – Students in PRE-K – 6th grade have access to technology within their classrooms. All 7-12th grade students are provided a laptop to use as a learning tool during the school year. Teachers use a blend of traditional and technology infused lessons to engage 21st century learners.
Athletics - All students are encouraged to participate in all sports. Athletic Accolades include several All-State, All-Academic, All-Conference, and All-District Titles.
Fine Arts - Year after year our marching band, band and choir continue to be awarded top state honors at their competitions

High Graduation Rate - Well above the state average of 92%, WCSD students complete their high school graduation requirements at a rate of over 98%.
Connecting to and with the Community

Band-o-Rama – An annual concert highlighting all school instrumentalists as well as the Winterset Community Band. Beginning instrumentalists have the opportunity to play alongside accomplished musicians and hear first hand how music skills progress through each level of learning.

Clubs and activities – Beyond the standard athletic and music programs our high school offers students the opportunity to connect with their peers in any of our 20+ clubs ranging from the TSA (a robotics club) to the Conservation Club.

Silver Cord - Our high school students are encouraged to complete 40 hours of community service during each of the 4 years of high school. This program helps students learn the value of giving back to their community.
Focusing on Individual Student Needs

PAW LAWS – As part of a Positive Behavior Intervention System, PAW LAWS reinforce a positive approach to learning how to live and work amongst your peers.

Student Assistance Coordinators – Each of our buildings has a staff member dedicated to supporting students' academic, behavioral and social needs. Many partnerships with community agencies such as CRISP ensure our students' basic needs are attended to so that learning can occur.

Practical Assessment Exploration System (PAES) – This lab class provides students in the Junior High and High School, with special needs, the opportunity to practice critical work skills before going into the world of work.

Bridges Alternative High School Program – Students have an opportunity to complete their high school requirements in a smaller, more flexible school environment.

Employee Training – All certified staff are involved in team or professional development opportunities each Wednesday morning. All staff have been trained in specialized areas such as recognizing the signs of abuse through a nationally recognized Stewards of Children training and ALICE (intruder) procedures.
Supporting Staff and Faculty Learning

Teacher Leaders – WCSD has received the Teacher Leader Compensation funding since its inception in the state of Iowa. This specific funding provides an opportunity for master teachers to support their peers in honing their instructional skills and content knowledge thus impacting student learning.

Professional Development – A district-wide focus on professional development that impacts student learning is stressed within WCSD. Our teachers are learning and expected to implement the Iowa Core/National Standards, develop a professional learning community culture and utilize an instructional framework that gradually releases learning to the student.
CITY OF WINTERSET
Discover the Heartland of America

Located just 25 minutes south of Jordan Creek Mall, Winterset is located in the heart of Madison County. Winterset is a fascinating and fun place to live, explore, and visit, with a rich history, enticing shopping, and dining. We offer welcoming lodging, a thriving business community, a responsive economic development group, and a whole calendar's worth of great community events.

To find out more about Winterset and Madison County visit these websites:
Madison County Chamber of Commerce www.madisoncounty.com
The Winterset Citizen www.thewintersetcitizen.com
Winterset City www.cityofwinterset.org
Madison County www.madisoncoia.us
Madison County Historical Society www.historyonthehill.org
Winterset Madisonian www.wintersetmadisonian.com
ABOUT WCSD
Superintendent:
Mr. Justin Gross

Board of Education:
Jared McDonald, President
Julie Knobloch, Vice President
Kirk Macumber
Malcolm Cortner
James Olson
Cammy Leners, Secretary/Treasurer

Enrollment (22-23):
Elementary - 422
Middle School - 330
Junior High - 238
High School - 532
Tuitioned Out - 145
Total: 1,667

Employees:
WCSD is the largest employer in the City of Winterset. Employing 267 people, our certified teaching staff represents 123 of these individuals.

Masters Degrees - 36
Bachelors Degrees - 83
Number of Women - 93
Number of Men - 27
Average Age - 39
Avg. years of Experience - 11

Winterset High School (9-12)
Cam Smith, Principal
Chad Sussex, 7-12 Assistant Principal
Randy McDonald, 7-12 Activities Director
720 Husky Drive
(515) 462-3320
(515) 462-2178 FAX

Winterset Junior High (7-8)
Joshua Sussman, Principal
Chad Sussex, 7-12 Assistant Principal
720 Husky Drive
(515) 462-3336
(515) 462-2178 FAX

Winterset Middle School (4-6)
Julie Plant, Principal
706 W. School Street
(515) 462-3010
(515) 462-4149 FAX

Winterset Elementary School (PK-3)
Doug Hinrichs, Principal
Katie Enos, Assistant Principal
404 S. 2nd Avenue
(515) 462-1551
(515) 462-5025 FAX
WINTERSET COMMUNITY SCHOOLS DATA
Free and Reduced Lunch = 33%
English Language Learners = 0.65%
Students with Individualized Education Plans = 10%

IOWA TESTS RESULTS: ISASP 21-22
All Students: Percent Proficient
English Language Arts
Grade 4 71.0
Grade 8 85.0
Grade 11 73.0
Math
Grade 4 67.0
Grade 8 84.0
Grade 11 74.0
Science
Grade 5 53.0
Grade 8 69.0
Grade 10 68.0

Composite

Math

Science

STEM

English

Reading

Writing

ELA

Group

Year

Valid Number

Mean Score

Mean Score

Mean Score

Mean Score

Mean Score

Mean Score

Mean Score

Mean Score

Winterset High School

2021-2022

111

22.3

22.4

22.1

22.5

21.3

23.1

6.8

21.5
Iowa School Report Card 2020-2021
Elementary – Exceptional
Middle School – Commendable
Junior High – Acceptable
High School - Acceptable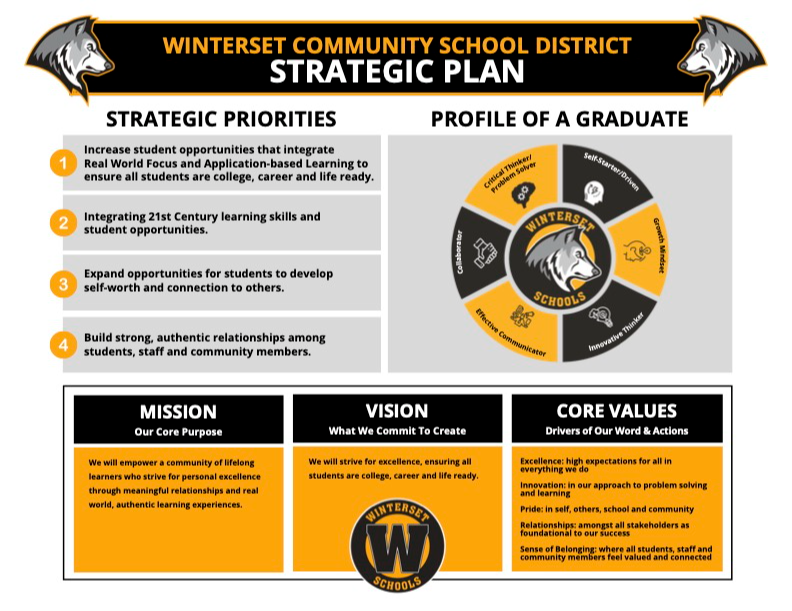 WHY WINTERSET COMMUNITY SCHOOL DISTRICT
We moved to Winterset 8-1/2 years ago when our boys were 2 years old. From the very beginning, we felt welcomed into the community. Winterset has proven to be a great place to raise our children! The schools have always been top-notch, with teachers who are actively engaged, energetic, and very approachable. The administration truly cares about our students and strives to do what is best to educate and challenge learners of all levels. We couldn't be happier with our choice in warm, safe, small-town community! -Parent
Our daughters have all thrived in the Winterset School District. In particular, my husband and I are thrilled with the value and emphasis placed on Fine Arts. Our daughters all enjoy both vocal and instrumental music and appreciate the opportunities available through the Fine Arts Department. We believe lessons such as teamwork, competition, tenacity, self-expression and goal setting are all learned through the arts and are thrilled that Winterset School District places such emphasis on them! -Parent
Choosing the right school for your son's or daughter's education is one of the most important decisions a family can make. Every child in our care is important to us and we work hard to ensure they are happy, active, involved and challenged in their academic progress. We have an expectation of excellence and effort in and outside the classroom. We focus on academic achievement, activities, discipline and service to others. Our schools foster a safe and nurturing environment that develops the mind, body and spirit of the whole student. We are blessed with a dedicated Board, Administration, faculty members and committed parents who are actively involved in supporting their children's success. -Board Member
25 years ago we were looking for a small school district that had a lot to offer. We found it in the Winterset Community School District. From Honors classes, college classes being offered at the High School, The Academy classes, to a great Fine Arts department, athletics, FFA, and so many other activities and clubs, the students really have an opportunity to excel, thrive and grow. From the administration to the teachers, they ALL genuinely care about each and every one of the students. All three of our children have graduated from Winterset. Winterset is definitely the greatest place to Live and Learn! -Parent
When we were new to Winterset Community Schools, we were pleasantly surprised by how warm and welcoming everyone was. The principals greeting us and took time to show us around their buildings and introduce us to teachers. The teachers have shown themselves to be very responsive to our questions and genuinely care about their students. From sports to music to academics, we have been very satisfied with the quality of education and opportunities for leadership development at Winterset Schools. We are fortunate to be a part of the active learning community. -Parent